The semiconductor market declined 6.3% in 3Q 2022
Views: 22 Author: Site Editor Publish Time: 2022-11-29 Origin: Site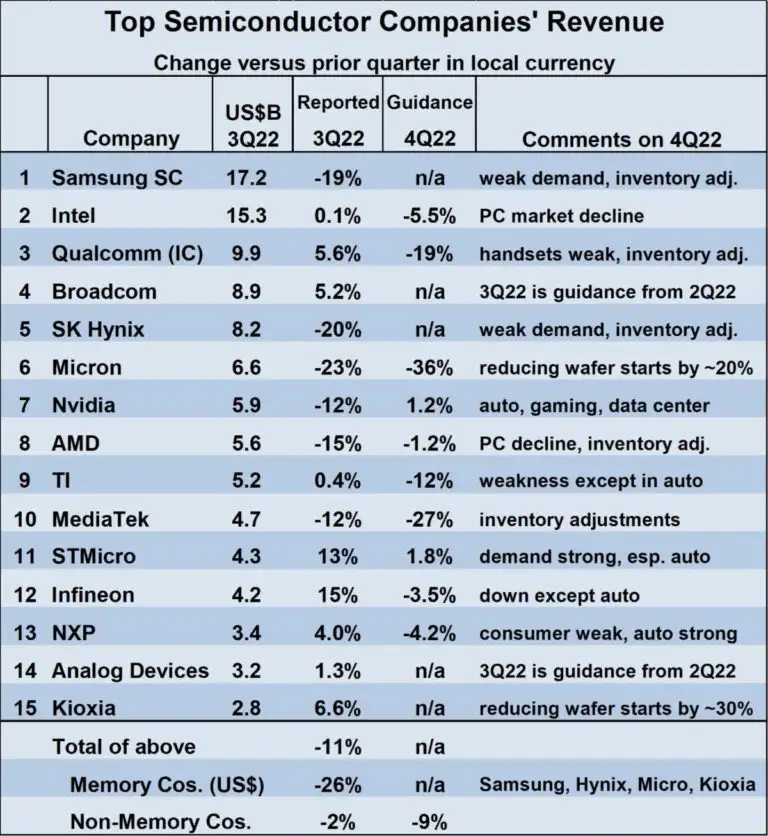 The semiconductor market declined 6.3% in 3Q 2022 from 2Q 2022, according to WSTS. Based on the outlook for 4Q 2022, the second half of 2022 will be down over 10% from the first half of 2022. The 2H 2022 decline will be the largest half-year decline since a 21% drop in the first half of 2009 versus the second half of 2008 during the great recession.

The revenue change of the top semiconductor companies in 3Q 2022 versus 2Q 2022 was mixed. Nine of the fifteen companies reported (or guided) a revenue increase in 3Q 2022, with the highest from Infineon at 15% and STMicroelectronics at 13%. Six of the companies reported a revenue decline, with the worst declines of 19% to 23% from memory companies Samsung, SK Hynix, and Micron Technology. The 3Q 2022 revenue declines in memory dropped the ranking of SK Hynix from 3 to 5 and dropped Micron Technology from 5 to 6. Samsung managed to maintain the number 1 ranking over Intel. Qualcomm moved up to number 3 and Broadcom became number 4.
The revenue outlook for 4Q 2022 is generally bleak, especially for memory. Micron Technology's guidance was a 36% decline in 4Q 2022 from 3Q 2022. Micron plans to reduce its wafer starts by about 20%. Kioxia plans to cut its wafer starts by about 30%. Samsung and SK Hynix did not give specific revenue guidance, but both cited weak demand and inventory adjustments as factors impacting revenue in the current quarter. Among non-memory companies, Qualcomm, Texas Instruments and MediaTek all expect double-digit revenue drops in 4Q 2022. Weak overall demand and inventory adjustments by customers were blamed for the grim outlook by most companies. Automotive seems to be the only healthy segment. Texas Instruments, STMicroelectronics, Infineon and NXP all stated growth in growth in the automotive sector is largely or partially offsetting declines in other sectors. Of the ten companies providing guidance for 4Q 2022, only Nvidia (+1.2%) and STMicroelectronics (+1.8%) are expecting increased revenues. The weighted average revenue change from the nine non-memory companies providing guidance is a 9% decline in 4Q 2022 from 3Q 2022.
The weakness in the key end markets of PCs and smartphones is apparent from the 3Q 2022 shipment estimates from IDC. PCs were down 15% from a year ago and smartphones were down 9.7%. Before the 3Q 2022 data was available, IDC was expecting year 2022 shipments of PCs to decline 12.8% and smartphones to decline 6.5%. Based on the latest shipment data, we at Semiconductor Intelligence are now forecasting a 15% decline in PCs and a 10% decline in smartphones for year 2022.
With the 6.3% semiconductor market decline in 3Q 2022 and the gloomy outlook for 4Q 2022, only forecasts done after the 3Q 2022 WSTS data release are relevant. November forecasts for 2022 are 8.1% from the Cowan LRA Model, 3% from IC Insights and 1.5% from us at Semiconductor Intelligence. 2023 will certainly see a decline in the semiconductor market. IC Insights is projecting a 6% drop while we at Semiconductor Intelligence project a 14% decline. Interestingly, back in August, Future Horizons forecast a 22% decline in 2023. The WSTS committee met last week for its fall forecast which should be released within the next two weeks. It will be interesting to see how much it changes from the WSTS August forecast update of 13.9% growth in 2023 and 4.6% growth in 2023.
Our Semiconductor Intelligence forecast for a 14% decline in 2023 would be the largest drop in the semiconductor market since a 32% decline in 2001, 21 years ago. In the last 50 years, the market has seen double digit declines in only three years: 1975, 1985 and 2001. Our 2023 forecast is based on the following assumptions:
–Inventory corrections are resolved over the next two to three quarters
–PCs and smartphones return to pre-pandemic trends by mid-2023
–No global recession in 2022 or 2023
If any of the above assumptions fail to materialize, the semiconductor downturn could continue throughout the quarters of 2023 and result in an annual decline of over 20%.
Semiconductors Down in 2nd Half 2022
by Bill Jewell on 11-20-2022 at 4:00 pm
Categories: Semiconductor Intelligence, Semiconductor Services